Dedication
Part of the reason for the building of Time Machine was to be a tribute to my dad. He was the guy that insisted when he was working on a car to have me there, mostly as a tool boy to help him out. But I'm certain there was another reason. I learned a lot from watching him work on cars, everything from rebuilding engines to body work, A classic case was the day when I was about 12 years old, and he was working on a Corvair engine and had the left cylinder head off, and told me to "Turn it over". Upon further review, he actually wanted me to bump the starter to slightly move the crank assembly. Well, I ended up (I still don't know why or how this happened) starting it up! All I could hear was "shut it off! shut it off!" I cringed as I looked back to see my Dad under the 'Vair covered in oil and laughing his ass off. I always remember this when something silly happens while working on a car.
But, I digress. in the style of Chip Foose, I wanted the dedication to be there, but I didn't want this to be a rolling gravestone, either. So I thought about it and decided to come up with something in the interior that would remind myself and anyone else looking at, or sitting in Time Machine to know how I feel about Dad. This manifested itself in a Marine corps emblem located inside the car, with a "Thanks, Dad" along with it. I just didn't know exactly how or where. The emblem itself started out to be problematic. I searched all over, and never found anything quite right. then one day I was looking through some of his old toolboxes Mom had given me and in the bottom of the last one, was something silver. I picked it up and looked at the other side and found exactly what I was looking for. a United states Marines insignia in Red, Gold, and black, about 2" in diameter. The basic idea was to mount the insignia on the Map pocket on the passenger side of the dash, and the notation "thanks Dad" next to it. I think that works well..... See what you think.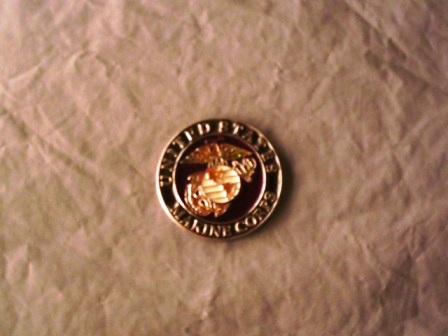 The insignia I found in one of Dad's old toolboxes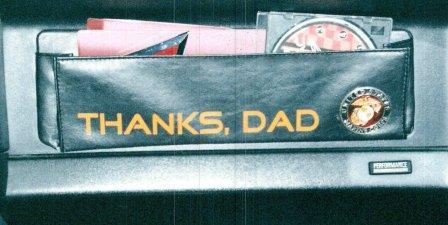 The finished pocket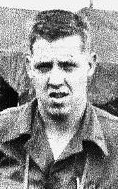 My dad...... (photo courtesy of and permission to use from Betty Geidner)
Thanks, Dad!
For everything!
And for the person who demanded that I take this down.....
No.