Tunes
When I first got her, time Machine had the stock "Premium" Delco-Remy AM/FM/CD with 3-band equalizer. A decent sounding system, (for stock) but it WAS 13 years old, the right side was starting to sound bad and the CD player wouldn't play the CD's I had burned @ home, so it was time for a change. In May 2004, I started out with a Pioneer SuperTuner IIID DEH-16 head unit. It's an AM/FM/CD that does play CD-R's. The specs show it has a max output of 100w per channel, and good numbers all around. I purchased it from Wal-Mart; so it came at a decent price, about $100.00 if I recall correctly. I installed it with a Scosche mounting kit and wiring adapter. One side note. I've been installing my own car audio since I've had cars and the Scosche adapters make the job a LOT easier! Well, it now sounded a lot better, but the right channel still sounded a bit rough. After checking the wiring, I figured the stock speakers were probably a bit tired, to I made a mental note to see about upgrading them at a later date.
My 4th wedding anniversary was 15 June 2005, and Crystal (my wife, better half, and car muse) asked what I'd like for a gift. The T/A's speakers came to mind and she said "well, I don't know anything about speakers, so why don't you just order some?" NO PROBLEM! Now the local Wally World had a fair selection of head units, but I didn't care for the speaker selection. So I checked online at Crutchfield, and they had what I was looking for. I ordered a pair of Pioneer TS-G1640R 6.5 inch round speakers for the rear, and a pair of TS-G1040R 4 inch rounds for the front. The price for all 4 including shipping was just under $100. But that's only the beginning. Crutchfield also supplied AT NO EXTRA CHARGE, adapters to attach the speakers to the stock wiring harness, speaker mounts, (the locations are some odd sizes and shapes) a complete instruction manual, and other info. This made the install probably the easiest I've ever done. The only problem was that the supplied mounting instructions for the rears were for a coupe and not a convertible, which is a bit different. Thankfully, I had already purchased a Pontiac shop manual, and it had the info I needed. Forty-five minutes to install them, I had a good sounding system, but I still felt it was lacking a bit of bass, even with the multitude of settings on the DEH 16.
So I started looking at the possibility of adding subwoofers and an amplifier to drive them. This was also going to require a different head unit, So i decided to do a switch. At the time, my Jeep Wrangler had a Pioneer DEH-P47DH which is set up (both physically and electronically) for amp/subwoofer operation. So, after about 4 hours of dismounting, re-mounting, & re-wiring, the Jeep's head unit was in Time Machine. Turns out it was better suited in other ways. The size was an exact match for the Delco unit originally in place, and it just looks better in the radio pod. Next the speakers that were originally installed in the rear panels were moved up to the kick panels up front. For some dumb reason, I tossed the grilles that came with the Pioneer speakers, so I needed new ones, and a place called parts express had the pieces. I got 'em on and they look good.
Next up was the subwoofer issue. I really did not want to go through building an enclosure and putting say, two 8" or 10"" Subs and more amplifier in it than i had to. What I wanted was as close to audiophile-quality sound as I can get, not the "Hey look at me" Boom boom - thump thump - rattle rattle sound that I normally associate with subs and amps. I want to hear the bass, not have what's left of my hearing destroyed by massive quantities of it. after much research (and filtering out the opinions of folks looking to lighten my wallet), I came across on the Parts Express site A 6X9" shallow mount subwoofer made by a company called Tangband. the only issue was that they have a somewhat low max power rating of 80w RMS, which will make selection of an amp a bit tougher. It seems that most amps are at least 150w RMS, so this part will be interesting. The price was right, so I ordered them with the intent of mounting them in the rear side panels where the TSG-1640R's used to live. This was accomplished with some compromises as to centering the subs in the original locations, and by some cutting of some of the structure, but they were placed where I wanted.
The amplifier choice was a PITA. I would have had loads of choices if I had wanted 500 or more watts, but I did manage to find something suitable. Also from Parts Express, the Dual Electronics XPA-2100 2 x 75W 2 Ohm Amplifier was almost exactly what the doc ordered. At 75w/channel, it was just under the max of the subs, so I feel confident that I won't damage the Tangbands, and it is a reasonably sized unit. here's the Specs;
*Power output: 75 watts RMS x 2 (2 ohm), 150 watts RMS x 1 (4 ohm), 300 watts max x 1
*Total Harmonic Distortion (THD) + N: < 1% at rated output *Signal to Noise ratio (S/N): > 75 dBA
*Input sensitivity: 200 mV 6 V *Frequency response: 20-20,000 Hz
*Dimensions: 10-1/3" L x 11" W x 4-1/8" H
*One-year warranty.
Variable crossover (low / full / high)
MOSFET PWM Power Supply
Variable bass boost circuit
2-ohm stable and tri-amp capable
Bridgeable operation
High and low level inputs
Bi-color LED status indicator
Direct wire connection terminals
It was mounted in the trunk after cutting away some of the carpet & sound deadener: (see pic below) using a Tsunami amp install kit intended for a 350W installation, so I have plenty of copper connecting everything together.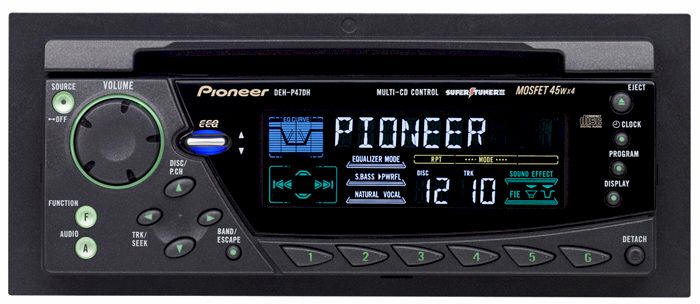 The Pioneer Deh-P47DH head unit

The TSG-1040R's mounted in the top of the dash (stock location)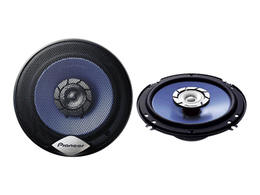 The TSG-1640R's mounted in the kick panels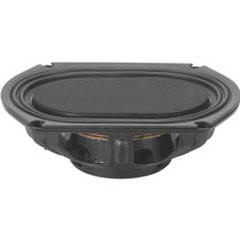 The Tangband 6x9 subwoofers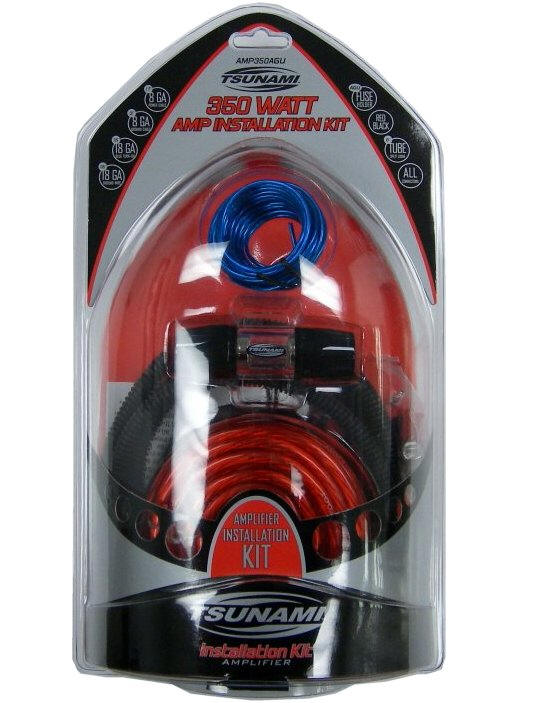 Tsunami amplifier install kit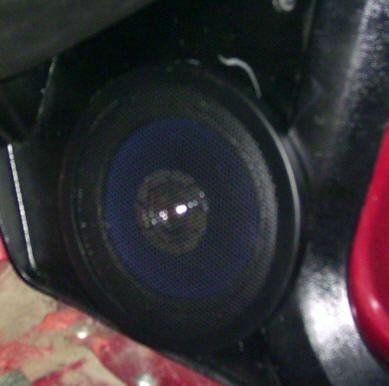 The TSG-1640R's mounted in the kick panels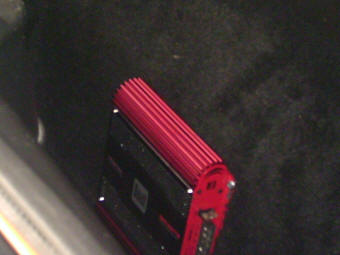 The amp Installed in the trunk (not wired yet)
---
If I do say so myself, it does sound good considering. At this point, it's hard to say since there's no upholstery in the interior, nor sound proofing. But as it is, I can hear the difference. the bass is definitely better, and having 4 speakers up front makes a huge difference. I'm looking forward to when I can get the interior done and see how it sounds then.
Sirius Satellite radio
Since I have Sirius in both of my Jeeps; (Yes I own something besides a musclecar!) and I like it SO much, I decided I wanted to be able to listen to it in Time Machine also. Now I won't get into the details on the receiver itself on this page, but you can see my review of it on my Jeep site, click here The mounting of the car kit was fairly straight forward, with just basic wiring needed. Mounting the satellite antenna was a bit of a pain, since the lead for it wasn't as long as I was used to. Instead of mounting it on the deck lid, I put in on the hard tonneau cover which worked well. Also; the receiver did still look like an add-on, so I made a change in its mounting. It was originally mounted on a mount that stuck out between the radio pod & the dash. I took the base mount and attached it to the lower of the two center A/C vents (small sacrifice) and made it look much more a part of the interior.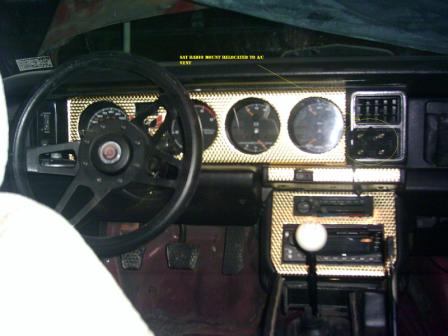 Dashboard with the Sirius mount in the low center vent. I'll be running the wiring through that area too.
28 Feb 2011 10:00:30